2017 ROOT (READ OUR OWN TOMES)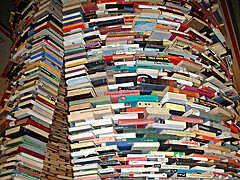 Aquest grup està oficialment inactiu. Són coses que passen.
Si vols reviscolar aquest grup o bé crear-ne un de nou sobre el mateix tema mira aquesta pàgina.
Together in 2016 we read over 4,000 of our own books and reached our goal for the second consecutive year! ROOT was successful but there are still books to be read. We will be Reading Our Own Tomes (those old books that deserve their time in the limelight). Join in the fight against unread books! But ROOT also says how we support each other in the effort and cheer each other to their own goal.

Many of us have mountains of books that are just waiting to be read and this is our way of making that decision to read those books. Newer and prettier books are always catching our eyes so older books fall farther to the bottom of the pile. This group is designed to help everyone see those books that have been hiding, and read them with the same joy as a new book arriving from the bookstore.

At the end of each month, we tally up the books that have been read by the members so far, so that we can see if we are still on target to reach our group goal.

To all our new members - When joining the group, please set a numerical goal and create a ticker and copy it into your own personal thread as well as the group ticker thread - https://www.librarything.com/topic/244995

This will help tremendously at the end of each month when the totals are calculated to show our progress. As we watch the group tickers move, we will root on each other to reach our individual goals and win the fight against unread books.
Tema

Tema

Missatges

Últim missatge

HelenBaker hits the bookshelves 2017

63 no llegits

/ 63

HelenBaker

,

maig

2018
Benita's Big Bad Book Pile - 2017

109 no llegits

/ 109

benitastrnad

,

març

2018
L's TBR Treasure Quest

29 no llegits

/ 29

This-n-That

,

gener

2018
TBR@60 Robertgreaves's challenge for 2017/2018 part 1

130 no llegits

/ 130

Robertgreaves

,

gener

2018
BJ's 2017 ROOTS

60 no llegits

/ 60

billiejean

,

gener

2018
Problem w/ Ticker

11 no llegits

/ 11

connie53

,

gener

2018
Lilisin and the Lost Reading Mojo - 2017 version

79 no llegits

/ 79

lilisin

,

gener

2018
DECEMBER ROOT - Progress Thread

152 no llegits

/ 152

lilisin

,

gener

2018
Martencat starts to unearth ROOTs in 2017

58 no llegits

/ 58

martencat

,

gener

2018
mandymarie20's Rummaging in her Root Cellar

34 no llegits

/ 34

Caramellunacy

,

gener

2018
MissWatson's ROOTing is divided into 3 parts, part2

228 no llegits

/ 228

MissWatson

,

gener

2018
leslie.98 2017 ROOTs

213 no llegits

/ 213

leslie.98

,

gener

2018
Rebeki ROOTs for the first time in 2017

75 no llegits

/ 75

Rebeki

,

gener

2018
rabbitprincess sails the perilous Sea of ROOTS in 2017

229 no llegits

/ 229

rabbitprincess

,

gener

2018
Familyhistorian pulls more ROOTs in 2017 3rd page

152 no llegits

/ 152

Familyhistorian

,

gener

2018
Bragan's Tenth Thingaversary ROOTing

343 no llegits

/ 343

bragan

,

gener

2018
detailmuse-ing through 2017 ROOTs

224 no llegits

/ 224

DetailMuse

,

gener

2018
Roberta's (luvamystery65) attempt to ROOT again

57 no llegits

/ 57

luvamystery65

,

gener

2018
2017 ROOTS Challenge - 1327 Books to Read 146 Audiobooks to Hear

57 no llegits

/ 57

Coach_of_Alva

,

desembre

2017
Avanders' 2017 ROOTs - Thread 2

108 no llegits

/ 108

rabbitprincess

,

desembre

2017
cyderry (Cheli) is ROOTing again!

104 no llegits

/ 104

cyderry

,

desembre

2017
Montarville's ROOT 2017

84 no llegits

/ 84

connie53

,

desembre

2017
Connie ROOTs in 2017 part 3

207 no llegits

/ 207

connie53

,

desembre

2017
Henrik_Madsen ROOTS - will it never end?

172 no llegits

/ 172

floremolla

,

desembre

2017
Backslider (floremolla) tries ROOTs again in 2017 - Part 3

179 no llegits

/ 179

floremolla

,

desembre

2017
jen.e.moore has too many ROOTs and not enough time

76 no llegits

/ 76

jen.e.moore

,

desembre

2017
Jackie's 4th year of ROOTing part 3

213 no llegits

/ 213

karenmarie

,

desembre

2017
Johanna's 2017 ROOTS

59 no llegits

/ 59

johanna414

,

desembre

2017
Majkia Tours the 'Verse and Reads

183 no llegits

/ 183

rabbitprincess

,

desembre

2017
Britt's second year of ROOTing

28 no llegits

/ 28

connie53

,

desembre

2017
Tess is Tilling her Tomes Part 4

169 no llegits

/ 169

avanders

,

desembre

2017
Kimberly's (kkunker) 2017 ROOT Challenge

60 no llegits

/ 60

rabbitprincess

,

desembre

2017
Nickelini Reads Her Books 2017

74 no llegits

/ 74

Nickelini

,

desembre

2017
fuzzi Excavates More of Her ROOTs in 2017!

114 no llegits

/ 114

fuzzi

,

desembre

2017
fuzzi's 2017 ROOT Rehoming Thread

62 no llegits

/ 62

connie53

,

desembre

2017
Sally Lou's ROOT reading

95 no llegits

/ 95

sallylou61

,

desembre

2017
karenmarie continues to ROOT around her bookshelves in 2017

101 no llegits

/ 101

karenmarie

,

desembre

2017
EAM Prunes More ROOTS

133 no llegits

/ 133

floremolla

,

desembre

2017
Rhea's Roots!

66 no llegits

/ 66

Settings

,

desembre

2017
So maybe it wasn't the ROOT year I was hoping for.

12 no llegits

/ 12

TheAmpersand

,

desembre

2017
lkernagh (Lori) reads more ROOTs in 2017

147 no llegits

/ 147

connie53

,

desembre

2017
ROOTING Through 2017

83 no llegits

/ 83

avidmom

,

desembre

2017
readingtangent (Elizabeth)'s 2017 ROOTs

120 no llegits

/ 120

avanders

,

desembre

2017
rainpebble ROOTS in 2017

50 no llegits

/ 50

avanders

,

desembre

2017
LoraShouse is ROOTing Aroung Again in 2017

96 no llegits

/ 96

avanders

,

desembre

2017
Amberfly's 2017 Root Thread

200 no llegits

/ 200

avanders

,

desembre

2017
2017 Rooting Around My Bookshelves -- A Dirty Dozen

220 no llegits

/ 220

avanders

,

desembre

2017
Sibyx digs into her book pile in 2017

39 no llegits

/ 39

sibylline

,

desembre

2017
Backslider (floremolla) tries ROOTS again in 2017 - Part 2

192 no llegits

/ 192

floremolla

,

desembre

2017
Benny 2017

63 no llegits

/ 63

benuathanasia

,

desembre

2017
Clue's 2017 ROOTS

85 no llegits

/ 85

clue

,

desembre

2017
si: Books Don't Just Furnish A Room

84 no llegits

/ 84

connie53

,

desembre

2017
brewergirl's ROOT list for 2017

44 no llegits

/ 44

connie53

,

desembre

2017
Kale ROOTs around in 2017

81 no llegits

/ 81

brakketh

,

desembre

2017
Caramellunacy's TBR excavation resumes in 2017

59 no llegits

/ 59

avanders

,

desembre

2017
Torontoc reads from her TBR tower in 2017

95 no llegits

/ 95

Jackie_K

,

desembre

2017
Nebula_21's ROOTs 2017

43 no llegits

/ 43

nebula21

,

desembre

2017
Pigletto (Lori) roots them out 2017

37 no llegits

/ 37

connie53

,

desembre

2017
Erratic charmer makes some breathing room

49 no llegits

/ 49

Erratic_Charmer

,

desembre

2017
DisassemblyOfReason's 2017 ROOT Challenge

28 no llegits

/ 28

DisassemblyOfReason

,

desembre

2017
CurrerBell gets out the shovel for 2017

48 no llegits

/ 48

CurrerBell

,

desembre

2017
NOVEMBER ROOT - Progress Thread

153 no llegits

/ 153

cyderry

,

desembre

2017
Quaisior's 2017 ROOTs

7 no llegits

/ 7

connie53

,

novembre

2017
2017 TICKER THREAD

90 no llegits

/ 90

sibylline

,

novembre

2017
OCTOBER ROOT - Progress Thread

170 no llegits

/ 170

connie53

,

novembre

2017
Crazy4reading's 2017 ROOTS

53 no llegits

/ 53

floremolla

,

octubre

2017
karenmarie ROOTs around her bookshelves in 2017

311 no llegits

/ 311

karenmarie

,

octubre

2017
Ameise1 (Barbara)'s fifth ROOT

47 no llegits

/ 47

Ameise1

,

octubre

2017
SEPTEMBER ROOT - Progress Thread

167 no llegits

/ 167

rainpebble

,

octubre

2017
lindapanzo's 2017 ROOTs

23 no llegits

/ 23

lindapanzo

,

octubre

2017
Tess is Tilling her Tomes Part 3

199 no llegits

/ 199

floremolla

,

octubre

2017
TBR@59 Robertgreaves's Challenge for 2016/17 part 2b

83 no llegits

/ 83

Robertgreaves

,

setembre

2017
Familyhistorian pulls more ROOTs in 2017 2nd page

182 no llegits

/ 182

Familyhistorian

,

setembre

2017
Tallulah tries her tomes 2017

13 no llegits

/ 13

MissWatson

,

setembre

2017
Ladybookworth reads from her own library

43 no llegits

/ 43

MissWatson

,

setembre

2017
Jackie's 4th year of ROOTing part 2

211 no llegits

/ 211

Jackie_K

,

setembre

2017
Connie ROOTs in 2017 part 2

198 no llegits

/ 198

connie53

,

setembre

2017
AUGUST ROOT - Progress Thread

155 no llegits

/ 155

connie53

,

setembre

2017
JULY ROOT - Progress Thread

85 no llegits

/ 85

moonshineandrosefire

,

agost

2017
LauraBrook Pulls ROOTS Once Again - Pt 1

43 no llegits

/ 43

rabbitprincess

,

agost

2017
JUNE ROOT - Progress Thread

100 no llegits

/ 100

moonshineandrosefire

,

agost

2017
nerwende ROOTs in 2017

31 no llegits

/ 31

avanders

,

agost

2017
Josephine aka knotbox does ROOT 2017 (for the first time!)

37 no llegits

/ 37

connie53

,

agost

2017
InfoQuest's 2017 ROOTing progress

24 no llegits

/ 24

connie53

,

juliol

2017
love rooting as a concept/but I'm a book hoarder

2 no llegits

/ 2

connie53

,

juliol

2017
TBR@59 Robertgreaves's Challenge for 2016/17 part 2

208 no llegits

/ 208

Robertgreaves

,

juliol

2017
MissWatson's ROOTing is divided into 3 parts

202 no llegits

/ 202

avanders

,

juliol

2017
Tess is Tilling her Tomes Part 2

201 no llegits

/ 201

Tess_W

,

juliol

2017
Onward! (2nd half of my goal of 50)

1 no llegit

/ 1

BookDoc16

,

juny

2017
MAY ROOT - Progress Thread

97 no llegits

/ 97

moonshineandrosefire

,

juny

2017
RavenHill's ROOT

11 no llegits

/ 11

Jackie_K

,

juny

2017
Reading group

10 no llegits

/ 10

avanders

,

maig

2017
Sace ROOTs Again in 2017

87 no llegits

/ 87

Tess_W

,

maig

2017
Avanders' 2017 ROOTs

229 no llegits

/ 229

connie53

,

maig

2017
2016 Top 5 Reads

10 no llegits

/ 10

Tess_W

,

maig

2017
APRIL ROOT - Progress Thread

106 no llegits

/ 106

moonshineandrosefire

,

maig

2017
Backslider tries ROOTS again in 2017

160 no llegits

/ 160

avanders

,

maig

2017
Jackie's 4th year of ROOTing

250 no llegits

/ 250

avanders

,

maig

2017
tames shelves and stacks

14 no llegits

/ 14

bumblesby

,

maig

2017
Connie ROOTs in 2017

223 no llegits

/ 223

connie53

,

maig

2017
This is a feature balloon