BookCrossing 2019 Reduce MTBR and Other Challenges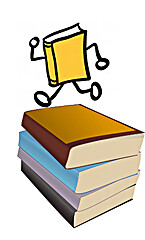 Aquest grup està oficialment inactiu. Són coses que passen.
If you want to revive this group, or create a new group on the same topic, see this page.
This group is for all BookCrossers who would like to reduce MTBR (mountain of to-be-read books) or participate in other BookCrossing-related challenges in 2019!

Here is how it works:
1. Start a thread with your name as part of the title.
2. Declare the goals that you wish to achieve in 2018.
3. Post progress reports throughout the year.

The most popular challenge in the past years has been to reduce MTBR. You can list all the books on your TBR list or just the ones you plan to finish in 2019. You can add tickers to track your progress. Many here count only books registered by other people but some count their own as well. You are free to structure your challenge any way you like!

Some members here have kept track of their other BookCrossing-related challenges, including various release challenges. Anything goes, as long as it helps motivate you to read and release more BC books!
Tema

Tema

Missatges

Últim missatge

The 2020 Group
4

no llegits

/ 4

mathgirl40

,

gener

2020
mathgirl40's 2019 BC challenge
35

no llegits

/ 35

mathgirl40

,

gener

2020
gypsysmom's 2019 Reduce MTBR Challenges
39

no llegits

/ 39

mathgirl40

,

gener

2020
December Goals and Progress
17

no llegits

/ 17

mathgirl40

,

gener

2020
Soffitta1's 2019 Reduction Challenge
86

no llegits

/ 86

mathgirl40

,

gener

2020
Lamilla's 2019 Challenge(s)
41

no llegits

/ 41

mathgirl40

,

gener

2020
PokPok's 2019 book reading extravaganza of sorts!
24

no llegits

/ 24

mathgirl40

,

desembre

2019
November Goals and Progress
11

no llegits

/ 11

mathgirl40

,

desembre

2019
Boekentrol's attempt to reduce Mt. Everest
39

no llegits

/ 39

mathgirl40

,

desembre

2019
Plans for 2020
7

no llegits

/ 7

mathgirl40

,

desembre

2019
October Goals and Progress
9

no llegits

/ 9

SqueakyChu

,

novembre

2019
September Goals and Progress
11

no llegits

/ 11

SqueakyChu

,

octubre

2019
Slicey's 2019 TBR, BC Release Challenges, and other Bookish Goals
14

no llegits

/ 14

mathgirl40

,

setembre

2019
August Goals and Progress
15

no llegits

/ 15

SqueakyChu

,

setembre

2019
July Goals and Progress
17

no llegits

/ 17

soffitta1

,

agost

2019
June Goals and Progress
6

no llegits

/ 6

mathgirl40

,

juliol

2019
May Goals and Progress
9

no llegits

/ 9

mathgirl40

,

juny

2019
April Goals and Progress
12

no llegits

/ 12

mathgirl40

,

maig

2019
March Goals and Progress
14

no llegits

/ 14

SqueakyChu

,

març

2019
February Goals and Progress
14

no llegits

/ 14

mathgirl40

,

febrer

2019
Welcome to our 2019 challenge group!
38

no llegits

/ 38

SqueakyChu

,

febrer

2019
January Goals and Progress
16

no llegits

/ 16

SqueakyChu

,

febrer

2019
jessibud2 will scale Mt TBR in 2019!
4

no llegits

/ 4

mathgirl40

,

gener

2019
This is a feature balloon