Go Review That Book!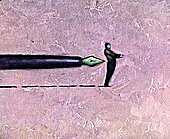 Aquest grup està oficialment inactiu. Són coses que passen.
If you want to revive this group, or create a new group on the same topic, see this page.
This is a simple idea aimed at encouraging people to read and/or review books from their own shelves whilst adding a spicy random factor to their reading.

This is how it works:

1. Jump into the latest Game Thread. Pick an unreviewed book from the shelves of the member posting above you and tell that member to "Go Review That Book!"

2. Wait for the next member to do the same for you.

3. Read or re-read the book as necessary and write your review.

4. Return to the Game Thread to tell the group that you've posted your review so that we may all enjoy it. In the same message, pick a book for the member above you...

...and like the circle of life, the game goes on.

You can read the reviews as the game goes along or you can follow progress on the Go Review That Book! Wiki pages. These set out all the reviews (where consent from the writer has been obtained), giving you a handy place to catch up on them all.

There's also a "Reviews to Come" page which is a list of books that have been assigned to members but not yet been reviewed by those members. This is handy for members to check what they've been assigned when, for example, they take a break from the game.

This game isn't an original idea. I adapted it from a game on RateYourMusic, devised by the clever Kronz. It was a lot of fun there and encouraged the writing of great reviews, so I thought it might be worth a try here. Given my propensity to go AWOL, thanks to tjsjohanna for keeping this going.
Tema

Tema

Missatges

Últim missatge

Administrator?
4

no llegits

/ 4

isabelx

,

maig

2021
Game Thread 6
8

no llegits

/ 8

EmScape

,

març

2021
Game Thread 5
265

no llegits

/ 265

EmScape

,

abril

2019
Growing this group.
19

no llegits

/ 19

whitewavedarling

,

gener

2017
How're you doing? #2
22

no llegits

/ 22

fdholt

,

desembre

2014
Permission to Repost Reviews
52

no llegits

/ 52

varielle

,

juny

2014
Nearing 1000th Assignment!
4

no llegits

/ 4

EmScape

,

novembre

2013
Game Thread 4
297

no llegits

/ 297

rabbitprincess

,

abril

2012
How're you doing?
228

no llegits

/ 228

isabelx

,

març

2012
Wiki Review Pages
4

no llegits

/ 4

tjsjohanna

,

març

2012
Reviewing non-fiction
8

no llegits

/ 8

Samantha_kathy

,

desembre

2010
Review links for 2010
16

no llegits

/ 16

tjsjohanna

,

novembre

2010
Wiki or threads for the reviews?
3

no llegits

/ 3

onyx95

,

agost

2010
FAQ
35

no llegits

/ 35

reading_fox

,

març

2010
Game Thread 3
250

no llegits

/ 250

EmScape

,

juny

2009
Go Review Wiki
37

no llegits

/ 37

GoofyOcean110

,

juny

2009
Rip my review to shreds
15

no llegits

/ 15

jimroberts

,

abril

2009
Invitation to the group "Reviews reviewed"
1

no llegit

/ 1

jimroberts

,

abril

2009
Welcome to the Arena
39

no llegits

/ 39

ireed110

,

novembre

2008
Reviewing fiction
11

no llegits

/ 11

whitewavedarling

,

agost

2008
That Was a Great Review
36

no llegits

/ 36

elbakerone

,

juliol

2008
Game Thread 2
253

no llegits

/ 253

ireed110

,

juny

2008
Update on TheBookImp's Book Assignments
1

no llegit

/ 1

JacInABook

,

març

2008
Random Musings
7

no llegits

/ 7

fyrefly98

,

març

2008
What did it for you?
7

no llegits

/ 7

ElizaJane

,

gener

2008
The Game Thread
225

no llegits

/ 225

reading_fox

,

novembre

2007
Update on Kayaalder's Book Assignment
15

no llegits

/ 15

kayaalder

,

maig

2007
This is a feature balloon