Cheeseheads of Wisconsin (COW)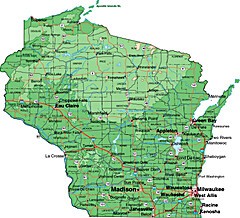 Aquest grup està oficialment inactiu. Són coses que passen.
Si vols reviscolar aquest grup o bé crear-ne un de nou sobre el mateix tema mira aquesta pàgina.
COW is for anyone living in, born in, or just fond of our quirky Midwestern state! Do you drink "soda" or know what a "bubbler" is? If so, you probably belong here. :)

Wisconsin-based books and authors are quite welcome!
Tema

Tema

Missatges

Últim missatge

Favorite Wisconsin Writers?

14 no llegits

/ 14

2wonderY

,

setembre

2018
There must be more Wisconsinites on LibraryThing

17 no llegits

/ 17

lhungsbe

,

setembre

2018
What's your favorite cheese?

3 no llegits

/ 3

lhungsbe

,

juliol

2018
Favorite Wisconsin Bookstores!

33 no llegits

/ 33

m.belljackson

,

desembre

2016
Upcoming event in SE WI for Doctor Who fans

1 no llegit

/ 1

ReneeMarie

,

agost

2014
Screw Salt, Wisconsin Is De-Icing Its Roads With Cheese Brine!

1 no llegit

/ 1

justjukka

,

novembre

2013
Doctor Who Trivia -- SE Wisconsin, 11/22/13

1 no llegit

/ 1

ReneeMarie

,

novembre

2013
Summer Book Challenge

2 no llegits

/ 2

justjukka

,

desembre

2012
What's your favorite Wisconsin bookstore?

18 no llegits

/ 18

Hazelbush

,

novembre

2012
Menomonee Falls bookstore closing

1 no llegit

/ 1

LibrariansOfBabel

,

gener

2012
Cheeseheads of Wisconsin (COW) Message Board

12 no llegits

/ 12

bookstopshere

,

març

2011
"Montessori Madness" in Oshkosh 17Feb2011

2 no llegits

/ 2

justjukka

,

febrer

2011
WE'RE GOING TO THE SUPERBOWL!

1 no llegit

/ 1

justjukka

,

gener

2011
The 2007 Wisconsin Book Festival - Madison

3 no llegits

/ 3

SqueakyChu

,

setembre

2007
George Vukelich

2 no llegits

/ 2

dwsact

,

juliol

2007
The 2006 Wisconsin Book Festival - Madison

1 no llegit

/ 1

SimPenguin

,

octubre

2006
This is a feature balloon