Maryland Librarythingers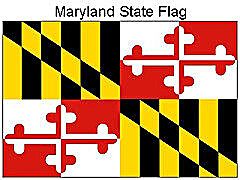 Aquest grup està oficialment inactiu. Són coses que passen.
Si vols reviscolar aquest grup o bé crear-ne un de nou sobre el mateix tema mira aquesta pàgina.
For those of the Old Line State. Stuck in the middle of the North and South, neither rebel nor yankee be.

Come to discuss the books and other aspects of the 23 counties that make this a great place to live. Comment on how they portray our fine state in movies and books.

Share the best book stores, new or used.
Let us know when authors are coming to your town.

Just cause -- We're not Virginia or DC.
Tema

Tema

Missatges

Últim missatge

Ancorat

— Welcome and Greetings!

55 no llegits

/ 55

drneutron

,

gener

2021

Ancorat

— What books about Maryland do you have in your library?

17 no llegits

/ 17

Emidawg

,

gener

2010
Discovering History -- Original COlonial Fort in Maryland

3 no llegits

/ 3

gilroy

,

abril

2021
The Loss of Bookstores in Southern Maryland

4 no llegits

/ 4

SqueakyChu

,

gener

2021
2018 World Fantasy Convention to be hosted by Baltimore.

1 no llegit

/ 1

MyriadBooks

,

octubre

2016
Book Thing fire

9 no llegits

/ 9

SqueakyChu

,

octubre

2016
A new Little Free Library in Rockville, Maryland...

3 no llegits

/ 3

SqueakyChu

,

agost

2013
One Maryland, One Book

4 no llegits

/ 4

shearon

,

setembre

2012
Natural Disasters and Survival

5 no llegits

/ 5

SqueakyChu

,

abril

2012
Kensington International Day of the Book - 4/22/12

1 no llegit

/ 1

SqueakyChu

,

març

2012
Gaithersburg Book Festival - Gaithersburg, Maryland - May 21, 2011

4 no llegits

/ 4

SqueakyChu

,

maig

2011
New Used Book Store in Annapolis

2 no llegits

/ 2

JimThomson

,

març

2011
USED BOOK SALE THIS WEEKEND

2 no llegits

/ 2

gilroy

,

març

2011
Thomas Kaufman - Book Talk at White Oak Library (Dec. 6, 2010 at 7 pm)

1 no llegit

/ 1

andyg227

,

novembre

2010
Baltimore Book Festival coming soon

3 no llegits

/ 3

SqueakyChu

,

setembre

2010
Local Sports - What's your take?

4 no llegits

/ 4

LouBriccant

,

maig

2010
Day of the Book Festival - Kensington, Maryland, USA - Sunday, April 25, 2010

2 no llegits

/ 2

dcafaro

,

abril

2010
Census Rally (Books and Bagels) coming to Gaithersburg on 3/27/10.

2 no llegits

/ 2

SqueakyChu

,

març

2010
Good luck digging out!

4 no llegits

/ 4

Ammianus

,

febrer

2010
MIchael Dirda at White Oak Library on Dec. 16th at 7 pm

3 no llegits

/ 3

andyg227

,

novembre

2009
4th Annual BookCrossing-LibraryThing Meet-Up - September 26, 2009

8 no llegits

/ 8

WildMaggie

,

setembre

2009
George Pelecanos at White Oak Library, Silver Spring on June 10, 2009

1 no llegit

/ 1

andyg227

,

maig

2009
Historic sites

6 no llegits

/ 6

cyderry

,

abril

2009
hiking in MD

5 no llegits

/ 5

WildMaggie

,

març

2009
Laura Lippman at White Oak Library, Silver Spring, MD on April 15, 2009 at 7:00 pm

3 no llegits

/ 3

SqueakyChu

,

març

2009
BookCrossers gathering at The Book Thing (Baltimore) today!

1 no llegit

/ 1

SqueakyChu

,

febrer

2009
Bookin' in Maryland in 2009...

12 no llegits

/ 12

cyderry

,

febrer

2009
150,000 FREE books in Baltimore, every weekend;www.bookthing.org

1 no llegit

/ 1

JimThomson

,

gener

2009
Any fellow booksworms curious about Benjamin Button?

2 no llegits

/ 2

Krolik_A

,

gener

2009
Favorite Book Store

32 no llegits

/ 32

JimThomson

,

desembre

2008
THE WHO November 3 Concert

4 no llegits

/ 4

WildMaggie

,

novembre

2008
Montgomery County Historical Society book sale

2 no llegits

/ 2

SqueakyChu

,

setembre

2008
Frederick County Public Libraries

5 no llegits

/ 5

beatles1964

,

setembre

2008
Mystery Thriller Book Club Discussion at White Oak Library

4 no llegits

/ 4

beatles1964

,

agost

2008
NFL Poll - Who do you root for?

11 no llegits

/ 11

beatles1964

,

juny

2008
An invitation to join BookCrossing

1 no llegit

/ 1

SqueakyChu

,

juny

2008
April 27, 2008 - A book festival in Kensington, Maryland!

1 no llegit

/ 1

SqueakyChu

,

abril

2008
Please take a second to read..

3 no llegits

/ 3

MDLady

,

abril

2008
Happy Maryland Day!

1 no llegit

/ 1

princessgarnet

,

març

2008
Anyone out there??

9 no llegits

/ 9

SqueakyChu

,

novembre

2007
April 22, 2007 - Please come to the Book Festival in Kensington, Maryland!

1 no llegit

/ 1

SqueakyChu

,

abril

2007
York Book Fair this weekend?

1 no llegit

/ 1

Tiffany721

,

març

2007
Author talks

1 no llegit

/ 1

SqueakyChu

,

setembre

2006
This is a feature balloon