Abraham Lincoln & Lincolniana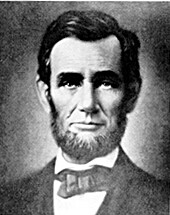 Aquest grup està vegetant de forma oficial. Són coses que passen.
Si vols reviscolar aquest grup o bé crear-ne un de nou sobre el mateix tema mira aquesta pàgina.
This is the place for readers who enjoy the study of Abraham Lincoln and the era in which he lived. NOT just the Civil War - though that's ok too - true Lincoln devotees are interested in every facet of the era. His family background, his "young love" with Anne Rutledge, his early business ventures, his career as a lawyer, Mary Todd Lincoln, the political career...

See - lots to read about!

And for members of the AL fan organization - aka The Abraham Lincoln Association - welcome!
Tema

Tema

Missatges

Últim Missatge

Questions about this Group

2 per llegir

/ 2

Schneider

,

octubre

2014
Anyone reading anything 'new'?

4 per llegir

/ 4

libraryhermit

,

setembre

2014
Abraham Lincoln & Lincolniana Message Board

7 per llegir

/ 7

Collectorator

,

març

2012
What Lincoln book is most meaningful to you?

6 per llegir

/ 6

ncunionist

,

octubre

2010
A new post! Yea!!!

1 per llegir

/ 1

Schneider

,

juliol

2010
Lincoln-Douglas Debates

1 per llegir

/ 1

dh1515

,

maig

2010
Reads

7 per llegir

/ 7

xieouyang

,

maig

2010
Summer Readings

6 per llegir

/ 6

xieouyang

,

setembre

2009
Stephen A Douglas

5 per llegir

/ 5

captainrlm

,

juliol

2009
David Herbert Donald passes

2 per llegir

/ 2

estamm

,

maig

2009
New titles

19 per llegir

/ 19

nbmars

,

abril

2009
[Ruins of Empires] by [[Volney]]: Thomas Jefferson translated it, Abraham Lincoln read it--Why?

1 per llegir

/ 1

ThomasCWilliams

,

abril

2009
Happy Birthday Mr. Lincoln!

4 per llegir

/ 4

Schneider

,

febrer

2009
Uncle Abe in the news (and other places)

3 per llegir

/ 3

nbmars

,

febrer

2009
Living in the Land of Lincoln

4 per llegir

/ 4

lilithcat

,

novembre

2008
What are you currently into? (05/30)

3 per llegir

/ 3

estamm

,

setembre

2008
Big names and new titles

2 per llegir

/ 2

jkeenley

,

juny

2008
Anyone there?

20 per llegir

/ 20

Storeetllr

,

maig

2008
Abraham Lincoln - In the news

4 per llegir

/ 4

estamm

,

maig

2008
Interesting New Mary Tood Lincoln Book

1 per llegir

/ 1

cslbooks

,

agost

2006
Lincoln Books Nominated for Quill Awards - be sure to vote by Sep 30!

1 per llegir

/ 1

cslbooks

,

agost

2006
This is a feature balloon