PinoyThing!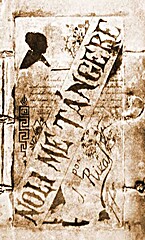 Aquest grup està oficialment inactiu. Són coses que passen.
If you want to revive this group, or create a new group on the same topic, see this page.
Pinoy readers and readers of Pinoy books are welcome to come in, have a cup of barako, and talk about their favorite Filipino books and authors. All discussions welcome, whether the topic's Bob Ong or Jose Rizal.
Tema

Tema

Missatges

Últim missatge

Introduce yourself
1

no llegit

/ 1

quardz

,

gener

2012
Anybody there?
2

no llegits

/ 2

quardz

,

gener

2012
Let's get this group going again!
4

no llegits

/ 4

jmc_cndk8

,

setembre

2011
Kindle
1

no llegit

/ 1

dizzydame

,

setembre

2011
Literary Events in Manila
6

no llegits

/ 6

dizzydame

,

setembre

2011
A book fair for indie people
2

no llegits

/ 2

dizzydame

,

setembre

2011
magick in pinoy literature
1

no llegit

/ 1

Dario_de_Giacomo

,

setembre

2011
2nd Hand Books
2

no llegits

/ 2

alenurd

,

abril

2010
Is this group still active?
3

no llegits

/ 3

jmc_cndk8

,

març

2010
Fr. Miguel A Bernad, SJ
2

no llegits

/ 2

dizzydame

,

octubre

2009
Books To Recommend To Me (Biography or History)
2

no llegits

/ 2

dizzydame

,

octubre

2009
Let's trade!
12

no llegits

/ 12

skoobdo

,

octubre

2009
My Precious Books Gone, Taken By Ondoy
1

no llegit

/ 1

nurseina

,

octubre

2009
survey: book youve read the most number of times
33

no llegits

/ 33

abaniko

,

octubre

2009
I don't have Nick Joaquin! Shame, SHAME!
21

no llegits

/ 21

nurseina

,

setembre

2009
My book blog!
1

no llegit

/ 1

sumthinblue

,

febrer

2009
Plans to Read Filipino Books in 2009?
4

no llegits

/ 4

dizzydame

,

gener

2009
Feminist PinoyThing
4

no llegits

/ 4

janis_mae

,

setembre

2008
Basic DIY book on home renovation?
1

no llegit

/ 1

dizzydame

,

juliol

2008
Best sources for Filipino books in the US?
7

no llegits

/ 7

dizzydame

,

juliol

2008
2008 Manila International Book Fair
1

no llegit

/ 1

anikins

,

juliol

2008
What's the best cheap/secondhand book store you know?
23

no llegits

/ 23

mawgee

,

juny

2008
Current Reading
1

no llegit

/ 1

eldritch00

,

maig

2008
PinoyThing Contest: Win FREE 1 year's LibraryThing membership!
16

no llegits

/ 16

micketymoc

,

gener

2008
shelfari
13

no llegits

/ 13

jaypoxx

,

gener

2008
Book-filled Greetings to PinoyThing'ers
2

no llegits

/ 2

dizzydame

,

gener

2008
PinoyThingamabrarians... where are you from?
16

no llegits

/ 16

dancerinthedark

,

desembre

2007
Favorite line?
6

no llegits

/ 6

dancerinthedark

,

desembre

2007
Books on the Filipino language and/or dialects-
5

no llegits

/ 5

dizzydame

,

desembre

2007
UP PRESS SALE
2

no llegits

/ 2

krvilla

,

desembre

2007
MV Doulos, docking in Manila starting Jan 5
8

no llegits

/ 8

krvilla

,

desembre

2007
Really good finds at secondhand bookstores!
22

no llegits

/ 22

krvilla

,

desembre

2007
Filipino Literature for Beginners
4

no llegits

/ 4

dizzydame

,

novembre

2007
so what pinoy books are you giving away this xmas?
6

no llegits

/ 6

dizzydame

,

novembre

2007
"books are the last bastion of analog"
2

no llegits

/ 2

micketymoc

,

novembre

2007
Libraries in Shopping Malls?
4

no llegits

/ 4

anikins

,

novembre

2007
Penguin Red Classics
11

no llegits

/ 11

anikins

,

novembre

2007
Issues surrounding media's role in the modern world: recommendations, please
11

no llegits

/ 11

eyelesbarrow

,

novembre

2007
Do you lend your books?
12

no llegits

/ 12

eyelesbarrow

,

novembre

2007
Uploaded Covers
1

no llegit

/ 1

krvilla

,

novembre

2007
Message from Tim Spalding
3

no llegits

/ 3

krvilla

,

novembre

2007
Book Care in Tropical Weather
5

no llegits

/ 5

krvilla

,

octubre

2007
Where to buy books in Davao
2

no llegits

/ 2

micketymoc

,

octubre

2007
Not Just Papercuts: Horrible Bookstore Experiences
4

no llegits

/ 4

janis_mae

,

octubre

2007
Confess your book biases here
26

no llegits

/ 26

janis_mae

,

octubre

2007
The PinoyThing! Irregulars?
6

no llegits

/ 6

shewhowearsred

,

setembre

2007
Price Stickers and Whatnot
16

no llegits

/ 16

dizzydame

,

setembre

2007
Favorite literary characters?
5

no llegits

/ 5

bastardmoon

,

setembre

2007
Which Bookstore do you prefer?
9

no llegits

/ 9

mamu

,

setembre

2007
Favorite character introduction?
3

no llegits

/ 3

dancerinthedark

,

setembre

2007
What is your most valuable book?
1

no llegit

/ 1

dancerinthedark

,

setembre

2007
An attempt to increase # of posts: How are your books organized in the shelf?
5

no llegits

/ 5

inkdrinker

,

setembre

2007
manila intl book fair '07
15

no llegits

/ 15

eldritch00

,

setembre

2007
Owned but unread, read but not owned?
2

no llegits

/ 2

eldritch00

,

setembre

2007
Powerbook's Anniversary Sale
11

no llegits

/ 11

shewhowearsred

,

agost

2007
What was the first book you read/owned?
20

no llegits

/ 20

shewhowearsred

,

agost

2007
MAC ARTHUR: new book by bob ong
3

no llegits

/ 3

alenurd

,

agost

2007
PinoyThing will soon be 1 year old!
2

no llegits

/ 2

loiscastillo

,

agost

2007
Dusk, Sionil Jose
1

no llegit

/ 1

urduha

,

maig

2007
Swap gift lifetime membership for books!
6

no llegits

/ 6

juned

,

abril

2007
Hagedorn, Uriza-Holthe, Bautista
6

no llegits

/ 6

urduha

,

abril

2007
Searching for article ideas - to pitch to Read magazine?
2

no llegits

/ 2

Erick_Tubil

,

febrer

2007
Powerbooks Warehouse Sale begins today!
4

no llegits

/ 4

akosikae

,

febrer

2007
2006 Lists
1

no llegit

/ 1

eldritch00

,

desembre

2006
How to succeed in running a book shop?
4

no llegits

/ 4

aeosdur

,

desembre

2006
Kwentong Tambay (Nicanor David Jr.)
2

no llegits

/ 2

anikins

,

novembre

2006
text on Philippine history?
13

no llegits

/ 13

eldritch00

,

octubre

2006
Noli Me Tangere (Penguin Classics)
8

no llegits

/ 8

aeosdur

,

octubre

2006
Manila Bookfair... who's going?
10

no llegits

/ 10

julsitos2

,

setembre

2006
Welcome to PinoyThing... and new Filipino books
4

no llegits

/ 4

anikins

,

agost

2006
This is a feature balloon