Crambo!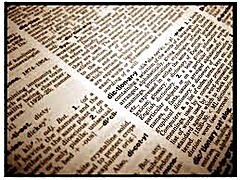 Aquest grup està oficialment inactiu. Són coses que passen.
If you want to revive this group, or create a new group on the same topic, see this page.
A deadly game of wit in the forests of verbality!

Rules:

1) To start a thread, you must suggest a rhyme for your mystery word. For example, if you are thinking of the word "gentle," you would say, "I am thinking of a word that rhymes with 'lentil.'"

2) The guessers cannot say the word they are guessing. Instead, they must provide the definition. Example: "Is it '90's slang for a psychopath?"

3) The first person must then say whether this is correct or not: "No, it is not 'mental.'"

Thus, it can conceivably be much harder for the person originating the game than for the guesser(s).

Historical note: http://en.wikipedia.org/wiki/Crambo

Not mentioned in the Wikipedia article is that Boswell was held in high estime for his excellent Crambo play. I haven't yet heard if the same holds true for Stallone or his alter ego, John.

Happy playing!

PS - A de facto rule has emerged: the winner of a round is expected to start a new thread for the following round.
Tema

Tema

Missatges

Últim missatge

I'm thinking of a word that rhymes with "adequate"
26

no llegits

/ 26

rolandperkins

,

desembre

2018
I am thinking of a word that rhymes with "Heroically"
52

no llegits

/ 52

HumalaHumas

,

novembre

2016
I'm thinking of a word that rhymes with record.
27

no llegits

/ 27

HumalaHumas

,

abril

2016
I'm thinking of a word that rhymes with cabbage
8

no llegits

/ 8

Sylak

,

gener

2016
I'm thinking of a word that rhymes with ermine
10

no llegits

/ 10

Jenni_Canuck

,

gener

2016
I'm thinking of a word that rhymes with "read"
35

no llegits

/ 35

Jenni_Canuck

,

desembre

2015
I'm thinking of a word that rhymes with kin
31

no llegits

/ 31

Jenni_Canuck

,

desembre

2015
I'm thinking of a word that rhymes with Malacca
27

no llegits

/ 27

rolandperkins

,

desembre

2015
I'm thinking of a word that rhymes with 'winner'
10

no llegits

/ 10

Jenni_Canuck

,

novembre

2015
Absence makes the heart grow...
32

no llegits

/ 32

rosalita

,

novembre

2015
I am thinkin of a word that rhymes with Rebuttal
17

no llegits

/ 17

Jim53

,

novembre

2015
Nary a word
30

no llegits

/ 30

rolandperkins

,

juliol

2015
I'm thinking of a word that rhymes with greek
30

no llegits

/ 30

Jim53

,

març

2015
Where have all the Crambo players gone?
3

no llegits

/ 3

Jim53

,

febrer

2015
I'm thinking of a word that rhymes with "tomboy."
11

no llegits

/ 11

Jenni_Canuck

,

gener

2015
I'm thinking of a word that rhymes with "herb"
15

no llegits

/ 15

Jim53

,

gener

2015
I'm thinking of a word that rhymes with lolly!
5

no llegits

/ 5

defaults

,

desembre

2014
I'm thinking of a word that rhymes with "ludicrous".
29

no llegits

/ 29

louminus

,

desembre

2014
I'm thiking of a word that rhymes with "ludicrous".
2

no llegits

/ 2

rolandperkins

,

octubre

2014
I'm thinking of a word that rhymes with cirque
11

no llegits

/ 11

louminus

,

octubre

2014
A Word that Rhymes with "glue"
20

no llegits

/ 20

Jenni_Canuck

,

setembre

2014
A word that rhymes with 'dessicated.'
45

no llegits

/ 45

oldstick

,

setembre

2014
I'm thinking of a word that rhymes with mayonnaise
29

no llegits

/ 29

oldstick

,

juny

2014
I'm thinking of a word that rhymes with bloom!
14

no llegits

/ 14

Jenni_Canuck

,

abril

2014
I'm thinking of a word that rhymes with "home."
12

no llegits

/ 12

Jenni_Canuck

,

abril

2014
A word to rhyme with generous.
41

no llegits

/ 41

Jim53

,

abril

2014
I'm thinking of a word that rhymes with "umpteen."
49

no llegits

/ 49

rodneyvc

,

gener

2014
I'm thinking of a word that rhymes with "verse"
37

no llegits

/ 37

Jim53

,

desembre

2013
I am thinking of a word that rhymes with 'cable.'
19

no llegits

/ 19

rodneyvc

,

novembre

2013
I'm thinking of a word that rhymes with "rapid"
33

no llegits

/ 33

Jim53

,

novembre

2013
I'm thinking of a word that rhymes with "tricorn".
12

no llegits

/ 12

rodneyvc

,

octubre

2013
I'm thinking of a word that rhymes with "prism."
31

no llegits

/ 31

Jenni_Canuck

,

octubre

2013
I'm thinking of a word that rhymes with "crescent"
49

no llegits

/ 49

Tid

,

agost

2013
I'm thinking of a word that rhymes with "medical"
8

no llegits

/ 8

rodneyvc

,

agost

2013
I'm thinking of a word that rhymes with "spine."
8

no llegits

/ 8

Jim53

,

agost

2013
I'm thinking of a word that rhymes with "Chump".
22

no llegits

/ 22

Jim53

,

agost

2013
I'm thinking of a word that rhymes with "blue."
25

no llegits

/ 25

justjim

,

agost

2013
I'm thinking of a word that rhymes with 'closer.'
9

no llegits

/ 9

rodneyvc

,

juliol

2013
I'm thinking of a word that rhymes with 'set'
43

no llegits

/ 43

rolandperkins

,

juliol

2013
I'm thinking of a word that rhymes with slosh
13

no llegits

/ 13

rodneyvc

,

juliol

2013
I'm thinking of a word that rhymes with Nina
17

no llegits

/ 17

Jenni_Canuck

,

juliol

2013
I'm thinking of a word that rhymes with cornet
46

no llegits

/ 46

Jenni_Canuck

,

juliol

2013
A word to rhyme with 'anticipate.'
64

no llegits

/ 64

oldstick

,

juny

2013
I'm thinking of a word that rhymes with sugarcoat.
10

no llegits

/ 10

oldstick

,

maig

2013
I'm thinking of a word that rhymes with "unique."
68

no llegits

/ 68

Jim53

,

maig

2013
I'm thinking of a word that rhymes with Chevrolet.
32

no llegits

/ 32

Jim53

,

maig

2013
I'm thinking of a word that rhymes with 'hard'
44

no llegits

/ 44

louminus

,

maig

2013
I'm thinking of a word that rhymes with "horde."
21

no llegits

/ 21

brightcopy

,

maig

2013
I'm thinking of a word that ryhmes with "flower"
19

no llegits

/ 19

brightcopy

,

abril

2013
I'm thinking of a word that rhymes with gym because I miss the Jim's
10

no llegits

/ 10

brightcopy

,

abril

2013
I'm thinking of a word that rhymes with "sane"
33

no llegits

/ 33

Jenni_Canuck

,

abril

2013
I'm thinking of a word that rhymes with "hirsute"
40

no llegits

/ 40

rodneyvc

,

abril

2013
I'm thinking of a word that rhymes with "thyroid"
66

no llegits

/ 66

Jenni_Canuck

,

abril

2013
I'm thinking of a word that rhymes with 'pet'
23

no llegits

/ 23

Jenni_Canuck

,

març

2013
I'm thinking of a word that rhymes with 'audacious.'
23

no llegits

/ 23

rodneyvc

,

març

2013
I'm thinking of a word that rhymes with "abundant"
27

no llegits

/ 27

oldstick

,

març

2013
I'm thinking of a word that rhymes with'great'
44

no llegits

/ 44

rodneyvc

,

febrer

2013
I'm thinking of a word that rhymes with "The Don"
35

no llegits

/ 35

rodneyvc

,

gener

2013
Iʻm Thinking a word that Rhymes with "Schismatic"
29

no llegits

/ 29

IWantToBelieve

,

gener

2013
I'm thinking of a word that rhymes with "codger."
28

no llegits

/ 28

bookblotter

,

gener

2013
I'm thinking of a word that rhymes with "save"
30

no llegits

/ 30

oldstick

,

gener

2013
I'm Thinking of a Word that Rhymes with "NERD"
12

no llegits

/ 12

Jim53

,

gener

2013
I'm thinking of a word that rhymes with "orient"
54

no llegits

/ 54

bookblotter

,

gener

2013
I'm thinking of a word that rhymes with " burnish."
27

no llegits

/ 27

rodneyvc

,

gener

2013
I'm thinking of a word that rhymes with "folk"
19

no llegits

/ 19

Jim53

,

desembre

2012
Crambo
4

no llegits

/ 4

bookblotter

,

desembre

2012
I'm thinking of a word that rhymes with "clarity"
32

no llegits

/ 32

rolandperkins

,

desembre

2012
I'm thinking of a word that rhymes with "other."
19

no llegits

/ 19

Tid

,

novembre

2012
I'm thinking of a word to rhyme with PEACE
43

no llegits

/ 43

Jim53

,

novembre

2012
I'm thinking of a word that rhymes with "picture"
29

no llegits

/ 29

Citizenjoyce

,

novembre

2012
I'm thinking of a word that rhymes with "bean"
30

no llegits

/ 30

rodneyvc

,

novembre

2012
I'm thinking of a word that rhymes with "burn."
51

no llegits

/ 51

buckjohnson

,

octubre

2012
I'm thinking of a word that rhymes with "car"
47

no llegits

/ 47

Jim53

,

octubre

2012
I'm thinking of a word that rhymes with "free"
14

no llegits

/ 14

rodneyvc

,

octubre

2012
I'm thinking of a word that rhymes with "miniscule."
13

no llegits

/ 13

Jim53

,

octubre

2012
I'm thinking of a word that rhymes with owl.
11

no llegits

/ 11

Jim53

,

octubre

2012
I'm thinking of a word to rhyme with park.
62

no llegits

/ 62

IWantToBelieve

,

octubre

2012
I'm thinking of a word that rhymes with "clue."
26

no llegits

/ 26

Citizenjoyce

,

setembre

2012
Find a word to rhyme with pool.
18

no llegits

/ 18

IWantToBelieve

,

setembre

2012
I'm thinking of a word that rhymes with "dose."
40

no llegits

/ 40

Citizenjoyce

,

setembre

2012
Iʻm thinking of a word that rhymes with "incur"
61

no llegits

/ 61

Jim53

,

setembre

2012
I'm thinking of a word to rhyme with flower.
7

no llegits

/ 7

rolandperkins

,

agost

2012
I'm thinking of a word that rhymes with "juice."
31

no llegits

/ 31

Citizenjoyce

,

agost

2012
I'm thinking of a word to rhyme with Squirt.
47

no llegits

/ 47

Citizenjoyce

,

agost

2012
Crambo's word of choice is cabernet
30

no llegits

/ 30

Citizenjoyce

,

juliol

2012
I'm thinking of a word that rhymes with Bastille.
33

no llegits

/ 33

jpyvr

,

juliol

2012
I'm thinking of a word that rhymes with "alien."
12

no llegits

/ 12

Jim53

,

juliol

2012
Crambo's new word rhymes with "frisk"
14

no llegits

/ 14

justjim

,

juliol

2012
Crambo's new word rhymes with ballcock
28

no llegits

/ 28

rolandperkins

,

juny

2012
Crambo's word rhymes with "vice"
38

no llegits

/ 38

rodneyvc

,

juny

2012
Let us Crambo!
10

no llegits

/ 10

buckjohnson

,

juny

2012
Poetry slam! Crambo's word rhymes with "haiku"
16

no llegits

/ 16

Jenni_Canuck

,

maig

2012
She'll be right
35

no llegits

/ 35

buckjohnson

,

maig

2012
I yam I said...
52

no llegits

/ 52

rodneyvc

,

maig

2012
Crambo's visiting the Amazon and is looking for a word to rhyme with macaw.
37

no llegits

/ 37

Jim53

,

maig

2012
I'm thinking of a word that rhymes with "sonic"
65

no llegits

/ 65

jpyvr

,

abril

2012
I'm thinking of a word that rhymes with 'codex'.
66

no llegits

/ 66

justjim

,

abril

2012
Rhymes with "invent"
13

no llegits

/ 13

jpyvr

,

abril

2012
I'm thinking of a word that rhymes with "abstain"
30

no llegits

/ 30

Tess_W

,

abril

2012
I'm thinking of a word that rhymes with Acapulco
2

no llegits

/ 2

Tess_W

,

abril

2012
This is a feature balloon