Gay Men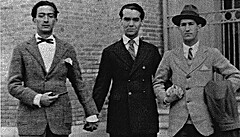 Aquest grup està oficialment inactiu. Són coses que passen.
Si vols reviscolar aquest grup o bé crear-ne un de nou sobre el mateix tema mira aquesta pàgina.
You're here, you're queer, and, yes, you've got the books and battle scars to prove it. Welcome to the warm embraces of the gay male LibraryThing community. Won't you stay awhile? This group is for, well, we with our subversive lifestyles, inordinately chic home furnishings, and all other manners of stereotype-affirming character traits. Yes - it is us! The few! The proud! The mari... uh, well... no, not the marines. Though, maybe some marines - but that's surely beside the point. Anyhow: The gay men! That's us!
Tema

Tema

Missatges

Últim missatge

Anne Rice abandoned christianity!

2 no llegits

/ 2

Torriano

,

novembre

2020
New Gay Fiction

9 no llegits

/ 9

marq

,

juliol

2017
The Gaylactic Spectrum Awards

1 no llegit

/ 1

zentinal

,

juliol

2016
Mysteries in the Key of Gay

51 no llegits

/ 51

PetterKringberg

,

gener

2016
Finalists for the 21st Annual Lambda Literary Awards

7 no llegits

/ 7

ElTomaso

,

juliol

2014
Gandhi was gay? :O

12 no llegits

/ 12

ChrisGonzalezLibrary

,

maig

2014
Queer Old Uncle Bilbo

6 no llegits

/ 6

ncgraham

,

març

2014
Gay History

12 no llegits

/ 12

JohnLindsay

,

desembre

2013
General forums for gay men

4 no llegits

/ 4

andrewsp

,

setembre

2013
Recent books

3 no llegits

/ 3

FiennesJohn

,

agost

2013
Christopher and his kind in the BBC

12 no llegits

/ 12

Rood

,

juny

2013
Francis King

4 no llegits

/ 4

bgsfca

,

novembre

2012
reading works by anti-gay authors

13 no llegits

/ 13

marq

,

octubre

2012
Samuel Matouke-Moukete

1 no llegit

/ 1

parrhesiastes

,

setembre

2012
EVERYone knows who Leslie Jordan is!

3 no llegits

/ 3

richardderus

,

agost

2012
Gay Poetry

1 no llegit

/ 1

mejix

,

abril

2012
Looking for some new gay fiction....

51 no llegits

/ 51

chipster1

,

març

2012
gay blog/website about literature

11 no llegits

/ 11

charmngbilly

,

desembre

2011
the 100 best lesbian and gay novels

1 no llegit

/ 1

mejix

,

desembre

2011
Help a Librarian!

1 no llegit

/ 1

LibrarianMolly

,

octubre

2011
Oscar Wilde

11 no llegits

/ 11

ebeach

,

setembre

2011
gay men

2 no llegits

/ 2

librorumamans

,

agost

2011
I'm new around here

2 no llegits

/ 2

EricJT

,

agost

2011
2 more GLBT bookstores close

7 no llegits

/ 7

Biblioteca_LGBT

,

juliol

2011
Gay man, straight woman: choosing to have a baby together.

3 no llegits

/ 3

riaanw

,

juliol

2011
Jody Picoult, "Sing You Home" and her son's coming out

2 no llegits

/ 2

Milwaukee_LGBT_Ctr

,

abril

2011
Leaving a Legacy

5 no llegits

/ 5

Rood

,

març

2011
InsightOut Book Club

6 no llegits

/ 6

mfd101

,

març

2011
Michael Cunningham: A life in writing

1 no llegit

/ 1

jmx

,

febrer

2011
Wanted to say "HI"

4 no llegits

/ 4

e-zReader

,

gener

2011
my best of 2010

2 no llegits

/ 2

sherman.clarke

,

gener

2011
Gay Sci-Fi/ Fantasy

39 no llegits

/ 39

riaanw

,

desembre

2010
Secret Historian

6 no llegits

/ 6

lilithcat

,

desembre

2010
Gay bar : the fabulous, true story of a daring woman and her boys in the 1950s

1 no llegit

/ 1

e-zReader

,

novembre

2010
Gay History

3 no llegits

/ 3

e-zReader

,

novembre

2010
Outwrite Bookstore in Atlanta

1 no llegit

/ 1

e-zReader

,

novembre

2010
Dan Savage's "It Gets Better" Project

4 no llegits

/ 4

Citizenjoyce

,

octubre

2010
K. M. Soehnlein's 'Robin and Ruby'

1 no llegit

/ 1

Murmurs

,

octubre

2010
can anyone help me get my book catalogued?

1 no llegit

/ 1

kanspira

,

maig

2010
IDAHO

1 no llegit

/ 1

Booksloth

,

maig

2010
Lambda Literary Awards - May 27, 2010

1 no llegit

/ 1

e-zReader

,

maig

2010
King of Cats Giveaway

2 no llegits

/ 2

K.J.

,

maig

2010
King of Cats Giveaway

1 no llegit

/ 1

blakefraina

,

abril

2010
Ricky Martin comes out.

1 no llegit

/ 1

marq

,

abril

2010
Gay sex in main stream fiction

7 no llegits

/ 7

marq

,

abril

2010
Manfredi - Alexander Trilogy

1 no llegit

/ 1

marq

,

març

2010
Lambda Rising in DC is closing

3 no llegits

/ 3

lilithcat

,

gener

2010
Lammy Award Nominations

1 no llegit

/ 1

e-zReader

,

gener

2010
Out Word Bound in Indianapolis

2 no llegits

/ 2

MarkHornNYC

,

desembre

2009
GLCC Library of Pittsburgh seeks donattions

1 no llegit

/ 1

e-zReader

,

novembre

2009
Gay Sleuth Novel for National Novel Writing Month

1 no llegit

/ 1

richardderus

,

octubre

2009
Giovanni's Room Bookstore needs your help

2 no llegits

/ 2

e-zReader

,

agost

2009
Intergenerational gay relationships

3 no llegits

/ 3

LolaWalser

,

juny

2009
Stonewall Library's move nearly official

2 no llegits

/ 2

pmpare

,

abril

2009
Member Giveaways

2 no llegits

/ 2

klaidlaw

,

març

2009
Rainbow Book Fair, NYC

1 no llegit

/ 1

e-zReader

,

març

2009
Oscar Wilde Bookstore

2 no llegits

/ 2

richardderus

,

febrer

2009
Queer Recommendations from the New Millenium

39 no llegits

/ 39

richardderus

,

febrer

2009
Please Help me find...

6 no llegits

/ 6

kingkama

,

octubre

2008
just wanting to connect with other gay guys in this place.

11 no llegits

/ 11

aedinallil

,

agost

2008
Thomas M. Disch, 1940-2008

2 no llegits

/ 2

JoseBuendia

,

agost

2008
Pittsburgh Book Fair

1 no llegit

/ 1

e-zReader

,

juliol

2008
for gay parents

1 no llegit

/ 1

e-zReader

,

juny

2008
Book Expo 2008

1 no llegit

/ 1

e-zReader

,

maig

2008
Book a month club

1 no llegit

/ 1

alans

,

abril

2008
Gays on stage

1 no llegit

/ 1

e-zReader

,

març

2008
Three Junes

4 no llegits

/ 4

diganwhiskey

,

gener

2008
ALA Midwinter meeting in Philadelphia

1 no llegit

/ 1

e-zReader

,

desembre

2007
nothing posted yet??

11 no llegits

/ 11

Kaysbooks

,

agost

2007
Book Group in Los Angeles

1 no llegit

/ 1

beejay

,

novembre

2006
This is a feature balloon