Member Giveaways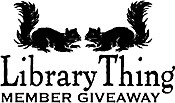 This is a discussion group for all things related to the LibraryThing Member Giveaway. This is not an official LibraryThing-created group, just a place for us MG members to hang out and discuss the program.

To sign up for the Member Giveaway program, you must sign up for the Early Review program here.

To see the current list of Member Giveaway books available, click here.
Tema

Tema

Missatges

Últim missatge

Member Giveaways Is Being Combined with Early Reviewers
7

no llegits

/ 7

Cosmic_Publications

,

juliol

1
October Giveaway for "The Milkshake Diet" Delayed - Dispatching in January
3

no llegits

/ 3

AbigailAdams26

,

febrer

24
Removing Books that have never been published
5

no llegits

/ 5

aspirit

,

febrer

7
The Four k. Young
2

no llegits

/ 2

MarthaJeanne

,

gener

30
Member Giveaway book has been marked as cancelled for years
3

no llegits

/ 3

SirThomas

,

gener

4
Reviews not received. Common?
12

no llegits

/ 12

KevinCannon1968

,

novembre

2021
Books Not Recieved
72

no llegits

/ 72

booked_ambivert

,

novembre

2021
Scorpid by Adam Ressler - reviews
1

no llegit

/ 1

SDaisy

,

setembre

2021
Giveaway Formatting
8

no llegits

/ 8

jamesmclellan

,

juny

2021
Review of Devil's Mist by Liam Moiser
1

no llegit

/ 1

SheriAWilkinson

,

juny

2021
How Do I Find the List of Winners for my Giveaway?
2

no llegits

/ 2

MarthaJeanne

,

maig

2021
Member giveaway books
8

no llegits

/ 8

deaflower

,

maig

2021
How to Live Forever by Eleanor Stewart = WHITE SUPREMACY MANIFESTO
11

no llegits

/ 11

spiralsheep

,

gener

2021
Book not being published
4

no llegits

/ 4

lilithcat

,

gener

2021
Giveaway Question- Couldn't find in FAQ
3

no llegits

/ 3

LeonStevens

,

novembre

2020
Open Giveaways
1

no llegit

/ 1

aspirit

,

octubre

2020
Member Giveaway winners fake?
4

no llegits

/ 4

lilithcat

,

octubre

2020
The Other Side of the Coin - Sent books not reviewed
1

no llegit

/ 1

MartyMalin

,

juliol

2020
How long can I expect
2

no llegits

/ 2

lilithcat

,

juny

2020
Stipulations on reviews?
22

no llegits

/ 22

Haidji

,

setembre

2019
Jacob Appel's The Man Who Wouldn't Stand Up
3

no llegits

/ 3

klindstrom22

,

juliol

2019
The Mask of Sanity
2

no llegits

/ 2

lilithcat

,

juny

2019
Einstein's Beach Review
2

no llegits

/ 2

MarthaJeanne

,

juny

2019
Einstein's beach house by Jacob appel
4

no llegits

/ 4

blue_ruin

,

maig

2019
New Member Question - How Long?
2

no llegits

/ 2

lilithcat

,

març

2019
Books in Need of Edits
1

no llegit

/ 1

aspirit

,

març

2019
Keeping the Chaff and the Wheat - Anyone have issues getting their copy?
1

no llegit

/ 1

Bithimala

,

febrer

2019
Review - Paris Mends Broken Hearts
1

no llegit

/ 1

ashtyn1

,

gener

2019
Review
5

no llegits

/ 5

MarthaJeanne

,

novembre

2018
Reviews - Blog Posts
3

no llegits

/ 3

CoffeeBooksandCakes

,

octubre

2018
The Liars Asylum by Jacob Appel
1

no llegit

/ 1

seascape

,

octubre

2018
New Giveaways
2

no llegits

/ 2

Taphophile13

,

abril

2018
Wondering about frequency of reviews
6

no llegits

/ 6

lilithcat

,

març

2018
Opening Digital Files
1

no llegit

/ 1

eLPy

,

març

2018
Review of Endohuman: Love vs. Duty by Nick Dream
1

no llegit

/ 1

doxiedoc12

,

gener

2018
Offered by AlexaiV (author):
1

no llegit

/ 1

BridgitDavis

,

gener

2018
"No previous giveaway winners in same calendar year."
7

no llegits

/ 7

lilithcat

,

gener

2018
eBook Format
1

no llegit

/ 1

ronploude

,

octubre

2017
Review: The Easy 9-Step System to Your First Book in 30 Days (Nuno Almeida)
2

no llegits

/ 2

MarthaJeanne

,

octubre

2017
MONGREL by Angel Berry
2

no llegits

/ 2

MarthaJeanne

,

setembre

2017
Trouble Adding "Quick-Kill and the Galactic Secret Service" to Library
5

no llegits

/ 5

ronploude

,

setembre

2017
Review of True Crime Stories Vol 1
1

no llegit

/ 1

TiffanyHow

,

setembre

2017
Review of The Healthy Meal Prep Cookbook
1

no llegit

/ 1

AnnaLouise04

,

agost

2017
Dropbox? No I'm not joining!
27

no llegits

/ 27

MarthaJeanne

,

juliol

2017
"Won" a book I didn't request?
3

no llegits

/ 3

amanda4242

,

juny

2017
Review: Find your Awesome- 30 day challenge to fall in love with your playful, imaginative, colorful self
1

no llegit

/ 1

moniabegum

,

abril

2017
The Mediterranean Diet: Quick Authentic Recipes for Every Season
2

no llegits

/ 2

SDaisy

,

febrer

2017
A Bend in the Willow by Susan Clayton-Goldner Dec. 2016
1

no llegit

/ 1

Sheila.L

,

gener

2017
Member sending more emails after giveaway.
4

no llegits

/ 4

MarthaJeanne

,

novembre

2016
Sequels
1

no llegit

/ 1

Corrie57

,

octubre

2016
In the Graveyard Antemortem by Stephen Stromp
1

no llegit

/ 1

ecjbat

,

setembre

2016
Review of Abandoned Dreams by Rod Raglin
1

no llegit

/ 1

jec27

,

juny

2016
my review of Mystery of the egyptian amulet by Scott Peters
1

no llegit

/ 1

celestialbelle

,

juny

2016
1,001 Cats: A Creative Cat Coloring Book by H.R. Wallace Publishing
2

no llegits

/ 2

MarthaJeanne

,

maig

2016
Review of Resthaven, by Eric Thern: Press X To Not Die BECAUSE YOUR PARENTS ARE DEAD
2

no llegits

/ 2

MyriadBooks

,

maig

2016
Duskfall by billy wong
1

no llegit

/ 1

StephanieHerman

,

maig

2016
After the Thaw (review)
1

no llegit

/ 1

Books4Nana

,

abril

2016
On the Run (Big Mike and Minnie)
1

no llegit

/ 1

Books4Nana

,

abril

2016
Carolina Rose
1

no llegit

/ 1

Books4Nana

,

abril

2016
One to Take by Tia Louise
1

no llegit

/ 1

Books4Nana

,

abril

2016
Ennara and the Fallen Druid
2

no llegits

/ 2

lilithcat

,

febrer

2016
Fate's Reprisal
2

no llegits

/ 2

lilithcat

,

febrer

2016
I hope i get a chance at this...
2

no llegits

/ 2

MarthaJeanne

,

desembre

2015
Out of Body by Christopher John Chater
1

no llegit

/ 1

DYanishevsky

,

desembre

2015
Ouray's Peak by Leigh Podgorski --- October 2015 LTER
1

no llegit

/ 1

bgknighton

,

novembre

2015
Seven Nigts with Ayahuasca
1

no llegit

/ 1

Clancy.Coonradt

,

octubre

2015
Vanished in Berlin
1

no llegit

/ 1

dmjohnson12

,

setembre

2015
Daimones review
1

no llegit

/ 1

rinkas

,

agost

2015
Thieves of Greatness
1

no llegit

/ 1

ilonita50

,

agost

2015
Only a Taste by Hedonist Six
1

no llegit

/ 1

ilonita50

,

agost

2015
Giveaway ending?
3

no llegits

/ 3

WillPeters

,

juliol

2015
Grandpa Ben and The Hungry Little Monsters Who Visit Our Brains
1

no llegit

/ 1

ilonita50

,

juliol

2015
The Fall and Rise of Harriet James by Susie Hooper
1

no llegit

/ 1

ilonita50

,

juliol

2015
Multiple books never received
2

no llegits

/ 2

MarthaJeanne

,

juliol

2015
Does anyone know why? Or - The mystery of the disappearing cover and morphing ISBN
5

no llegits

/ 5

GerardONeill

,

juliol

2015
Bait and Switch with types of books
6

no llegits

/ 6

MarthaJeanne

,

juny

2015
On The Black by Theo Cage
1

no llegit

/ 1

Harley0326

,

juny

2015
Miriam's secret by Jerry Eicher
1

no llegit

/ 1

Harley0326

,

juny

2015
Taken Away by Patricia Yager Delagrange
1

no llegit

/ 1

Harley0326

,

maig

2015
Dead Secret by Richard Milton
1

no llegit

/ 1

LoboAl

,

maig

2015
A Fearful Lie
1

no llegit

/ 1

Harley0326

,

maig

2015
An American Song
1

no llegit

/ 1

Harley0326

,

maig

2015
Review of Survival of the Ginnest by Aimee Horton
1

no llegit

/ 1

Harley0326

,

maig

2015
What do I do with books received in different format than requested/offered
8

no llegits

/ 8

thelittlematchgirl

,

maig

2015
Review of Miracle Girl
1

no llegit

/ 1

GreyGrace

,

abril

2015
Review of the book Flame and Stone, Dunningham Manor by Jamie Debree
1

no llegit

/ 1

kfischbacher

,

març

2015
Who is the admin?
7

no llegits

/ 7

foggidawn

,

març

2015
Review of The Wisdom of Perversity
1

no llegit

/ 1

hubblegal

,

març

2015
Review of Passing the Torch by L.L. Sanders
1

no llegit

/ 1

hubblegal

,

març

2015
Review of "Words From the Past" by Suren Hakobyan
1

no llegit

/ 1

dmjohnson12

,

febrer

2015
Never going to get here...
1

no llegit

/ 1

kristincedar

,

febrer

2015
Request for no negative review?
6

no llegits

/ 6

Brad_K

,

febrer

2015
Review of [The Boy Next Door] by [Lolli Powell]
1

no llegit

/ 1

dmjohnson12

,

febrer

2015
His PhD is in Hypocrisy: And Other Poems about My Crappy Ex-Boyfriend by Tayo Oredein
1

no llegit

/ 1

Ahopkinsbibliomaniac

,

gener

2015
Review of Zenith: A Novel of Ascension
1

no llegit

/ 1

librarynut

,

gener

2015
Review of Kickin Lenny Saves The Day
1

no llegit

/ 1

Ahopkinsbibliomaniac

,

gener

2015
Review:The Earl's Defiant Wallflower
1

no llegit

/ 1

booklover_rem

,

desembre

2014
Review of Dystopia by Janet McNulty
2

no llegits

/ 2

tweezle

,

novembre

2014
books not received-cleaning up my email here at LT
2

no llegits

/ 2

MyriadBooks

,

novembre

2014
Books by Masako
3

no llegits

/ 3

Suzanne.Marble

,

novembre

2014
This is a feature balloon