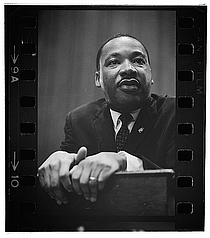 Llibres

613

Col·leccions

Etiquetes

Núvols

Suport

S'ha unit

Feb 2, 2016
Nom real

Dr. Martin Luther King, Jr.

Sobre la meva biblioteca

The books included here are those in the Morehouse College Martin Luther King Jr. Collection, held at the Archives Research Center of the Robert W. Woodruff Library. See the

Book Listing

for information about accessing the collection. The books reportedly contain Dr. King's handwritten annotations, though these are not noted in the listing.

Sobre mi

Dr. Martin Luther King, Jr. (15 January 1929–4 April 1968), Baptist minister and leader in the American civil rights movement.
Connexions del membre
Amics
Aquest lloc utilitza galetes per a oferir els nostres serveis, millorar el desenvolupament, per a anàlisis i (si no has iniciat la sessió) per a publicitat. Utilitzant LibraryThing acceptes que has llegit i entès els nostres Termes de servei i política de privacitat. L'ús que facis del lloc i dels seus serveis està subjecte a aquestes polítiques i termes.