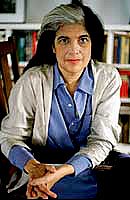 Llibres

301

Col·leccions

Etiquetes

Núvols

Suport

S'ha unit

Feb 5, 2009
Real Name

Susan Sontag

About My Library

About Me

Susan Sontag (1933–2004) was an American literary theorist, author, filmmaker, philosopher, and political activist. Among her many books are the collections of essays Against Interpretation and On Photography. Her novels include In America and The Volcano Lover.
Member Connections
Biblioteca interessant
Aquest lloc utilitza galetes per a oferir els nostres serveis, millorar el desenvolupament, per a anàlisis i (si no has iniciat la sessió) per a publicitat. Utilitzant LibraryThing acceptes que has llegit i entès els nostres Termes de servei i política de privacitat. L'ús que facis del lloc i dels seus serveis està subjecte a aquestes polítiques i termes.