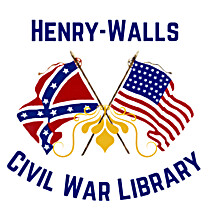 Llibres

62

Col·leccions

Etiquetes

Civil War History (3), Military History (3), Civil War (3), Appomattox (2), Confederate History (2), Confederate (2), Military (2), 100th Anniversary of the Inauguration of Jefferson Davis (1), Nine Days of April (1), Last Days of the Civil War (1), Centennial of Death of Jefferson Davis (1), Grant (1), Potomac (1), April 1865 (1), Sheridan (1), 1865 (1), Army of the Potomac (1), Confederate States of America (1), Lee (1), Jefferson Davis (1), Meade (1)

Núvols

Suport

S'ha unit

Mar 19, 2023
About My Library

The Henry-Walls Civil War Library is for members of Thomas Jefferson Chambers 2591. While we have books for both the Union and Confederacy, our main focus is for the Confederacy.
Aquest lloc utilitza galetes per a oferir els nostres serveis, millorar el desenvolupament, per a anàlisis i (si no has iniciat la sessió) per a publicitat. Utilitzant LibraryThing acceptes que has llegit i entès els nostres Termes de servei i política de privacitat. L'ús que facis del lloc i dels seus serveis està subjecte a aquestes polítiques i termes.