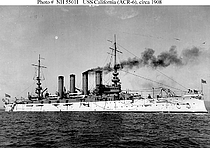 Col·leccions

Etiquetes

Crew's Library (830), Ship's Library (703), American and English Fiction and Essays (519), Biography (116), Useful Arts (91), Naval and Military History (72), Africa and Asia (68), United States (65), Natural Sciences (57), Naval and Military Arts (49), Foreign Fiction (except English) and Essays (42), North Central and South America or America (41), Sociology (40), Law and Diplomacy (38), Europe in General and Minor Countries (34), General Works (30), Travels and Adventures (28), Oceanica and Polar Regions (27), Great Britain (26), History and Geography (25), Naval and Military Intelligence and Information (25), Russia and Spain (21), Language (21), Religion (20), France (17), Fine Arts (17), Germany and Austria (16), Italy (13), Philosophy (8), Poetry and Drama (7)

Núvols

Suport

S'ha unit

Mar 2, 2010
Nom real

USS California (Armored Cruiser No. 6)

Sobre la meva biblioteca

Sobre mi

USS California, a 13,680-ton Pennsylvania class armored cruiser, was built at San Francisco, California. She was commissioned in August 1907, and spent the next ten years serving in the Pacific. California regularly operated along the North American west coast, with occasional cruises to Hawaii and other oceanic islands. In 1912, she briefly deployed to the western Pacific for service on the Asiatic Station.

In September 1914 California was renamed San Diego to make her original name available for assignment to a battleship. She frequently was employed as Pacific Fleet flagship between then and July 1917, when she was sent to the Atlantic for World War I service. San Diego operated as a convoy escort in the North Atlantic until 19 July 1918, when she was sunk off Fire Island, New York, probably by a German mine. San Diego was the only major warship lost by the United States in World War I.


Aquest lloc utilitza galetes per a oferir els nostres serveis, millorar el desenvolupament, per a anàlisis i (si no has iniciat la sessió) per a publicitat. Utilitzant LibraryThing acceptes que has llegit i entès els nostres Termes de servei i política de privacitat. L'ús que facis del lloc i dels seus serveis està subjecte a aquestes polítiques i termes.