New Releases in Picture Books
Afegeix-te a LibraryThing per participar.
Aquest tema està marcat com "inactiu": L'últim missatge és de fa més de 90 dies. Podeu revifar-lo enviant una resposta.
I've created this forum so people can post about new releases in picture books. I'm always looking for new picture books but it's hard to keep up with all the new releases. When/if you find any brand new books, post them here — even if you haven't had a chance to read or review them yet!
Today (August 26) I received four brand new picture books in the mail that I had preordered months ago. They were released TODAY! I love getting books on the day they're released. The books are:
-
Quest
by
Aaron Becker
-
Day Dreamers
by
Emily Winfield Martin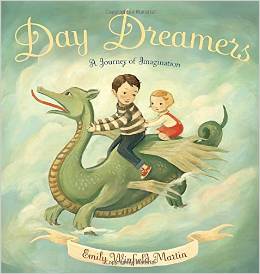 -
Little Elliot, Big City
by
Mike Curato
-
What There is Before There is Anything There: A Scary Story
by
Liniers
They are all fantastic books. Quest is the second book in the
Journey
series and Dream Animals is related to Martin's first book
Dream Animals
. Love love love both of these "series."
Little Elliot, Big City is Curato's first book and when I read it, it instantly became one of my favorite picture books. Here is Amazon's description of the book: "Amid the hustle and bustle of the big city, the big crowds and bigger buildings, Little Elliot leads a quiet life. In spite of the challenges he faces, Elliot finds many wonderful things to enjoy—like cupcakes! And when his problems seem insurmountable, Elliot discovers something even sweeter—a friend."
What There is Before There is Anything There is about bedtime/nighttime fears that a little boy has. It has interesting characters and illustrations. I love creepy kidlit so I enjoy this book a lot.
Uni the Unicorn
by
Amy Krouse Rosenthal
and Brigette Barrager was also released today. Unfortunately, I haven't had a chance to purchase it yet.
These books make me sooooo excited for contemporary kidlit! Everything I've checked out lately has been exceptional.
Specs for Rex
by
Yasmeen Ismail
came out on August 14 in the UK, and is definitely also worth mentioning. I received it for free (and signed by the author!) from The Bright Group and it's a really cute book about a boy learning to love what makes him different.
Oh, I am *very* excited to hear about Quest! Journey is such an amazing book.

Also, excellent idea for a thread! Thanks!
Here are some books that were released in August that everyone should know about:
-
Uni the Unicorn
by Amy Krouse Rosenthal, illustrated by Bridgette Barrager
-
On Sudden Hill
by Linda Sarah, illustrated by Benji Davies
-
Hug Machine
by Scott Campbell
I wan finally able to purchase Uni the Unicorn and it is beautiful! Not a style that I typically like, but I definitely do like it! On Sudden Hill was signed and shipped to me for free from Benji, and it's a magnificent story about friendship. Hug Machine is laugh-out-loud funny, and I didn't expect to adore it as much as I do.
This month (September) should be a good month for new picture book releases, so be on the lookout!
The incredible book The Farmer and the Clown by Marla Frazee was released yesterday (September 23)!
It is amazing!! I love wordless picture books and this is an exceptional one about a lost clown and a surprise friendship.
I just read
Ich will Nudeln!
with two second graders who are poor readers, and they loved it. Keep an eye out for
Stephanie Blake
. She is originally from Minnesota, but lives in Paris so her books are first published in French.
@
hannahwhaley
- Once Upon an Alphabet will be released next Tuesday (October 14) in the US. I've preordered it and look forward to reading it! It looks magnificent.
The Storm Whale (
https://www.librarything.com/work/14564373
) written and illustrated by the magnificent Benji Davies was released in the US on September 30. It is a tale about a beached whale saving the relationship between a young boy and his father. The text is short and simple; the incredible illustrations are what really make the story.