Graphic Novels
Afegeix-te a LibraryThing per participar.
Aquest tema està marcat com "inactiu": L'últim missatge és de fa més de 90 dies. Podeu revifar-lo enviant una resposta.
March: Book 1
by John Lewis, Andrew Aydin and Nate Powell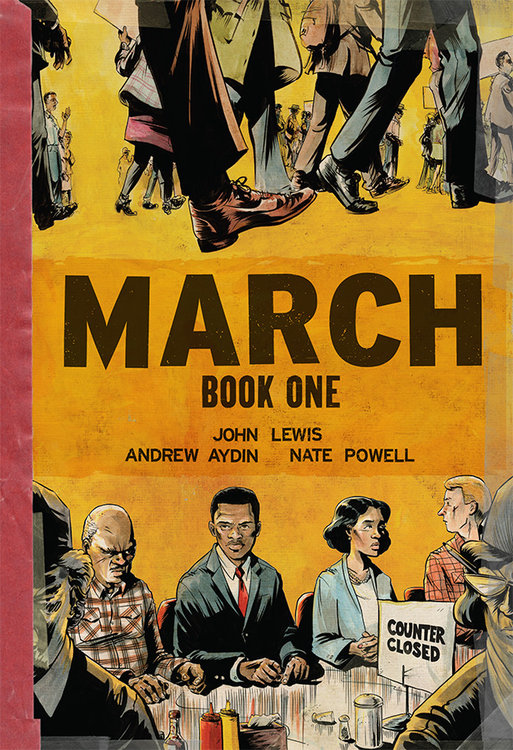 John Lewis (1940-) is the only surviving member of the Old Guard of the U.S. Civil Rights Movement in the 1950s and 1960s, the others being Martin Luther King, Jr. (chairman of the Southern Christian Leadership Conference (SCLC)), James Farmer (founder of the Congress on Racial Equality (CORE)), A. Philip Randolph (head of the Brotherhood of Sleeping Car Porters and influential labor union leader), Roy Porter (executive director of the National Association for the Advancement of Colored People (NAACP) from 1955-1977), and Whitney Young (executive director of the National Urban League from 1961-1971). He, like my mother, was born in Troy, Alabama, and he graduated from the American Baptist Theological Seminary and Fisk University, both in Nashville, Tennessee. He was an active participant in the Nashville Student Movement, whose sit-ins, nonviolent protests, and subsequent arrests led to the desegregation of that city's public lunch counters and other public facilities. Lewis was one of Dr. King's most trusted advisers during the 1960s, and he was the youngest speaker at the March on Washington in 1963. He was seriously injured on March 7, 1965, "Bloody Sunday", when dozens of participants in the Selma to Montgomery March in Alabama were brutally beaten by state and county police officers as they left Selma, but he made a full recovery and contributed to be an active participant and leader in the Movement.
Since 1987, Lewis has been the Representative for Georgia's Fifth Congressional Distinct, which covers most of the city of Atlanta, where I live, and its immediate suburbs.
March: Book 1
is the first of a trilogy of graphic novels about the life of John Lewis, which begins on the day that Barack Obama was inaugurated as President of the United States in 2009. Lewis tells the story of his life to an African American mother and her two young sons who visit his office in Washington, starting with his childhood on a farm in Pike County, Alabama, and ending on "Bloody Sunday".
Lewis recounts his love of preaching the Gospel, first to the chickens on his family farm who fell under his care and love, and later to his congregation as a teenager. He describes the tenets of nonviolence, and recalls some of the key members of the early years of the Movement, including Jim Lawson, the divinity professor at Vanderbilt University who served as an advisor to the Nashville Student Movement. The simple but powerful black and white illustrations are perfectly complemented by similarly crafted text, which makes this book a good choice for older children and adolescents, as well as adults, and it is available in printed and electronic versions. This was an excellent effort by John Lewis, his co-author Andrew Aydin, and illustrator Nate Powell, and I look forward to reading the next two novels in the trilogy soon.