Roberto Innocenti
Afegeix-te a LibraryThing per participar.
Aquest tema està marcat com "inactiu": L'últim missatge és de fa més de 90 dies. Podeu revifar-lo enviant una resposta.
Roberto Innocenti
appears to be one of Italy's premier children's book illustrators. His work includes versions of classic tales such as Cinderella and the Nutcracker, and particularly Pinocchio. He does a modern re-telling of Red Riding Hood in
The Girl in Red
.
I've examined some of his other work, but I most love the two works where he has collaborated with U.S. poet,
J. Patrick Lewis
.
Their first collaboration was
The Last Resort
, in 2002. A description of the book reads thus: "an artist's imagination disappears and never returns. His quest to recover it leads him to The Last Resort, a remote seaside hotel visited by some most remarkable guests which are inspired by famous literary figures."
I'm thinking that it was Innocenti who led in creating the book. He has top billing on the cover. The pictures are remarkably complex, but tell the story very well.
The cover only hints at what you'll find inside, though.
It's been a while since I read it, (and it should be somewhere in my house!) but the text is much less important that the story and mystery conveyed in the pictures.
There is a look inside feature
HERE
for the first few pages.
Innocenti's strength is landscapes and architecture. That is vividly apparent in his rendering of
Pinocchio
. Oh well, I'm not able to touchstone to the specific edition. You can get there from his author page.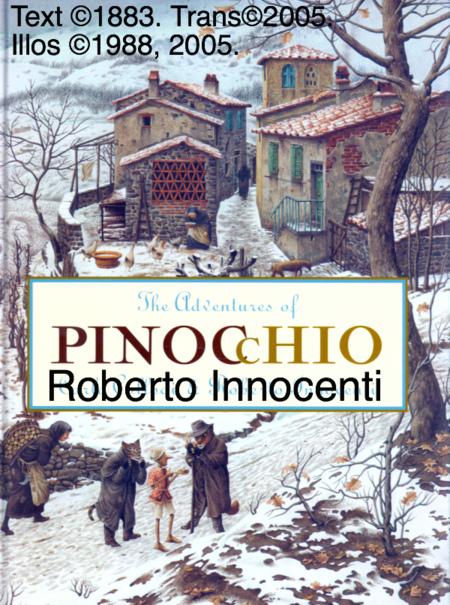 His other books are not as easy to find. I've read
Rose Blanche
, but wasn't particularly impressed. My review: Although this book deals with a very moving topic, I was not particularly taken with the treatment. Lots of detail in all the wrong places.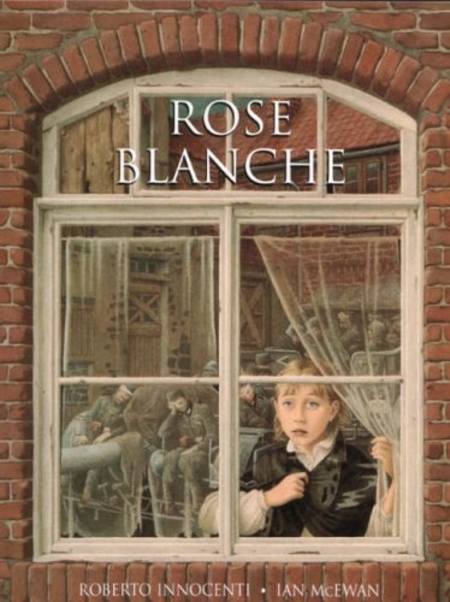 My very favorite, and why I started the thread, is
The House
.
There is a stone house, in Italy, one presumes, built in 1656. It's been abandoned and sits on a wooded hillside by 1900, when Innocenti begins his documentary. His double spread pages are taken from the same perspective and show the cyclical renewal, life and changes in occupants and the larger world, through the 20th century. I love this kind of treatment, and collect as many examples of it as possible.
And here is one of the spreads:
I thought I'd bought it before, but gave up and ordered it again. It came yesterday, and I'm celebrating.