THE DEEP ONES: "An Assignation" by Sean O'Brien
Afegeix-te a LibraryThing per participar.
"An Assignation" by
Sean O'Brien
Discussion begins December 30, 2020.
First published in
The Silence Room
(2012).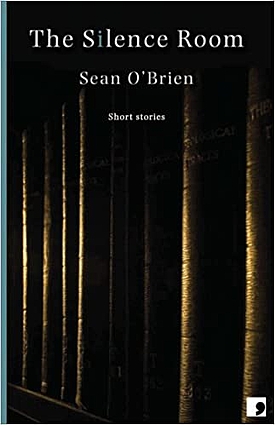 ONLINE VERSIONS
https://www.thefreelibrary.com/An+Assignation+By+Sean+O%27Brien%3b+SATURDAY+SHOR...
BIBLIOGRAPHY
https://www.fantasticfiction.com/o/sean-obrien/
SELECTED PRINT VERSIONS
The Silence Room
MISCELLANY
https://en.wikipedia.org/wiki/Sean_O%27Brien_
(writer)
https://www.theguardian.com/books/2009/aug/14/interview-sean-obrien
https://www.ncl.ac.uk/elll/staff/profile/seanobrien.html
https://literature.britishcouncil.org/writer/sean-obrien
Online for me too, but I do have a copy of Sean O'Brien's
The Drowned Book
(which is poetry).
That cover is deceptive. At first glance I thought it depicted the bars of a jail door or cell window. Reading the Fantastic Fiction page for The Silence Room (click through from the author page linked above), I noticed the stories each reference a singular library. Looking again at the cover, I see those bars are, in fact, the spines of books.
Another story of a man meeting a woman too good to be true; we've done at least two before with similar setups, Sansom's
A Woman Seldom Found
and Peake's
Same Place, Same Time
. It occurs to me I can't recall reading a similar story with the sexes reversed - perhaps writers avoid it as too close to real-world concerns about date rape? Or maybe they simply prefer to use their own sex for the victim and I tend to read mostly stories by men.
The use of 2nd person worked well I thought. The plot is slight enough, but I enjoyed the way it was told.
The way O'Brien tells this story is almost entirely responsible for my liking it so well.

The first time I read it, there was some uncertainty as to how it would turn out, but not much. A small frisson between the possibility the narrator was a literal and not merely figurative ladykiller, and the possibility there was something more. That first possibility seemed too obvious to be all there is -- but I had to concede, maybe that was it, this would turn out to be a bad story.

The quality of the writing is what persuaded me there was more ... would someone who wrote that well, at the sentence level, at the same time be so hackneyed in terms of plot? No! -- I thought. That couldn't be.

So if the "twist" would be something else, what else except that the would-be killer gets killed.

And that's where I wonder. Is there something else, yet? There is, of course, the matter of just what type of creature the woman is, and who those other (faceless) women are. But I'm not too interested in that question: whatever answer might be given would be tiresome and ruin the mood.

Something that does pique my interest, though, is again rooted in how O'Brien tells his story. As the narrator sits at table, I count three separate times that the steak arrives. Why is that? It's very specific. And given how well he tells the story, it seems odd that he would mess up the chronology of his tale, and re-tell us of something already told, or if not "mess up" then be awkward in how he relays events of the evening. So if it's not bad writing, what is it he's saying?

First: You slowly eat your haemorrhaging steaks ...
Then: No need to disturb this seeming equilibrium as you carve your steaks with a slight amusing sense of deja vu, and consume them ...
Finally: The steak arrives. You carve, you eat, insatiable, you drink, insatiable, as is your companion.

Note, too, that reference to deja vu in the second instance.

Something else than a serial killer caught in his own game. I'm not sure what, though.


>4 elenchus:
And just where, in this story, is the library? If indeed every story in the collection refers to a library, as was stated in the
Fantastic Fiction
description of the collection from which the story is taken.
There is the reference to the peculiarities of the Metro station: "And where else is there a station which also offers a gallery and exhibition space?" But neither is a library.
I wonder if reading any of the other stories would shed light.
Re the steaks, the amount of alcohol consumed is also impressive - for a while I wondered if "you" would simply drop unconscious at the table.
I don't have the local knowledge to shed any more light on the location of this story. I think - after a little Googling - that Metro refers to local train services run by the West Yorkshire Combined Authority. If I'm reading a map correctly, some services extend beyond the county and carry on to destinations on the west coast. So maybe the story is set in Blackpool, or Morecambe (that would make the "gallery and exhibition space" just a bit more likely, if a 19th Century train station had been redeveloped but some of the original building retained. For example, Reading Station's original frontage and ticket office is now a pub, flanked by 1980s and 2010s extensions comprising the new concourse and ticket office, etc.).

I'd also noticed the "time slips" during the couple's meal (although if they weren't drinking red wine I'm not sure I'd consider their alcohol consumption excessive!).

I appreciated the opening paragraphs evocation of the train journey - the specificity of impressions, observations, reflections - but set against the mystery of who the protagonist is and what he's up to. To the end, we don't know if he's suffered the worst fate one could imagine going on a blind date or picking up a stranger, or if he's a serial killer finally meeting a supernatural comeuppance.

Would I have guessed the author is also a poet? Maybe not; but, knowing that he is one, it's easier to see the story doing the things more usually expected of (modern) poetry - the sharp evocation of a moment, no explicit narrative (although, in saying that, I may just be betraying a lack of familiarity with modern prose fiction). And of course telling the story in the 2nd person makes it about "you", the reader.


Yes, the plot is slight, but I liked the story, particularly the protagonist's exhilaration at leaving it all behind and embarking on a new journey.

So is the powder the woman gives the protagonist to make him more pliable? Less able to react to the knife? Or is some part of the conclusion an hallucination from it?